Spotlight on: Including Disabled People
Spotlight on: Including Disabled People
Introduction
"We are not seeing enough positive trends in disabled people's perceptions and experiences of being active." Activity Alliance Annual Disability and Activity Survey 2022-23.
Sport England Active Lives Adult data from 2021-2022 (published in April 2023) showed that 47% of disabled people in Kent and Medway were considered to be active. This means that 53% of disabled people in the county are currently not reaching desired activity levels to significantly benefit their health.
Our Spotlight on: Including Disabled People highlights the benefits of physical activity for disabled people, and showcases some of the resources available to encourage organisations to offer more inclusive sessions. We hope you find the following resources and articles of interest.
---
Disabled People and Physical Activity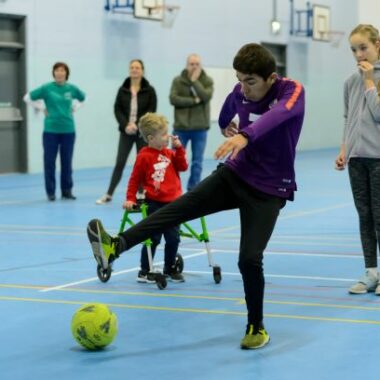 Activity Alliance facts and statistics about disabled people:
Disabled people and people with long-term health conditions are almost twice as likely to be physically inactive compared to those without.
Four in five disabled people would like to be more active; only one in five report participating in an organised activity in the last year.
Most disabled people would prefer to take part in sport with both disabled and non-disabled people.
Disabled people want to spend more than non-disabled people on being active. However, many disabled people fear that being more active will result in their benefits or financial assistance being removed.
Disabled people are nearly three times more likely than non-disabled people to feel lonely always or often. Nearly two-thirds of disabled people who felt lonely agreed that being active could help them feel less lonely.
Follow this link to access Activity Alliance's Facts and Stats
Physical Activity Guidelines
For Disabled Adults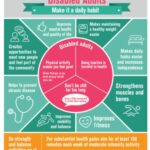 The UK Chief Medical Officers' guidelines recommend that disabled adults aim for at least 150 minutes each week of moderate intensity activity. Strength and balance activities on a least two days per week is also recommended.
Being inactive is harmful to health so even a little movement is better than nothing.
Follow this link to download the full guidelines (PDF)
---
For Disabled Children and Disabled Young People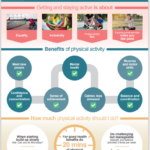 The UK Chief Medical Officers' guidelines recommend that disabled children and disabled young people should aim for 20 minutes of physical activity per day for good health benefits. Strength and balance activities three times are week are also recommended.
When starting, build up slowly. Small amounts of activity are good so do bitesize chunks throughout the day.
Benefits of Physical Activity for Disabled People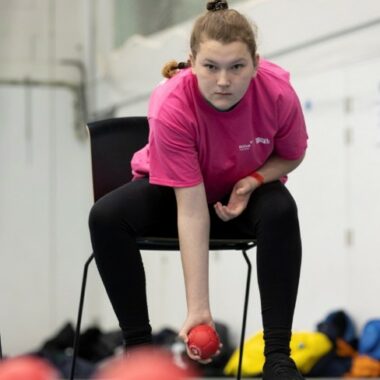 For adults, being physically active improves mental health and quality of life. It makes maintaining a healthy weight easier and makes daily tasks easier. It also increases independence, strengthens muscles and bones, improves mobility and balance and helps to prevent chronic disease.
Taking part in physical activity sessions also creates opportunities to meet new people and feel part of the community.
For children and young people, physical activity can improve confidence and concentration. It can provide a sense of achievement, improve mental health and support motor skill development.
National Support and Resources
National and Local Campaigns
We Are Undefeatable
A campaign inspiring and supporting people with long-term health conditions to build physical activity into their lives.
Follow this link to find out more and to become a supporter
---
Who Says?
For far too long disabled people have faced misconceptions and presumptions on what is and isn't possible, including in sport. Activity Alliance wants to move conversations on, open people's minds and shift out-dated views on disability. Join the conversation and be a part of the campaign on social media – share the films and add your voice by posting your own experiences using #WhoSays.
Follow this link to find out more about the Who Says? campaign
---
Get Out Get Active
Get Out Get Active (GOGA) began in 2016 and is a programme created to bring disabled and non-disabled people together to be active. It looks to engage the least active communities in fun and inclusive ways. At a local level, GOGA in Action is being delivered in Dover.
Local Support and Resources
Activity Finders
Activity Hubs/Finders provide people with information about a range of activities in their area, so they can find the ones that suit their individual needs. Promoting your inclusive sessions through these hubs can help you to reach new audiences.
Follow this link to add your activities to the Activity Finder
---
Tackling Inequalities
Read about the impact of our work in supporting partners to tackle inequalities and to provide more opportunities for disabled people to take part in sport and physical activity. Watch the short film below to hear how Whitstable Lawn Tennis Club offer inclusive tennis sessions for the local community to tackle inactivity, reduce isolation and to enable participants to make friendships and reconnect with each other.
---
Additional Support and resources
Contact Us
If you'd like to discuss any of the above articles or would like any further information, please get in touch with Bianca Logronio, our Safeguarding and Inclusion Officer via email bianca.logronio@kent.gov.uk.