Tackling the Enjoyment Gap with This Girl Can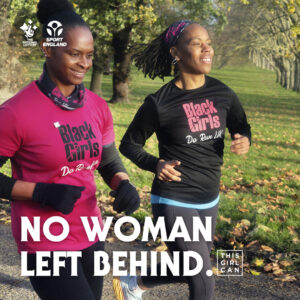 This Girl Can, Sport England's flagship campaign to help women get active, is turning its attention to tackling the exercise 'Enjoyment Gap' – as it reveals 2.4 million fewer women than men enjoy sport and physical activity (February 2023).
As part of a new campaign phase, 'This Girl Can With You', highlights the barriers faced by women when getting active, with key concerns including safety, fear of judgement and the cost of living.
'This Girl Can With You' is a call-to-arms for sport and activity providers to dismantle the barriers that contribute to the Enjoyment Gap. Enjoyment is one of the biggest motivators for people to take part in sport and physical activity – and with less than 60% of women active compared to over 63% of men, closing the Enjoyment Gap is an important step towards tackling the stubborn gender activity gap.
Four Action Areas
This Girl Can has identified four action areas with the power to dismantle barriers, help women enjoy getting active, and close the Enjoyment Gap. Activities for women must be:
Social (help women feel part of a community)
Suitable (meet women's needs)
Self-Affirming (help women feel confident)
Safe (women must feel physically and emotionally safe when taking part).
Play Your Part
To support the campaign and to get people talking about the Enjoyment Gap and what they can do to close it, sport and activity providers across Kent & Medway are invited to access a host of free resources, practical advice and latest insight via the link below. No one knows your organisation, your team, your members or your community better than you. Help make sports and activity feel more enjoyable for women.
This Girl Can With You – Free Campaign Resources & Toolkit
Please note: If you've not already registered as a This Girl Can supporter you will need to do so first, as you need to be signed in to access the free assets.