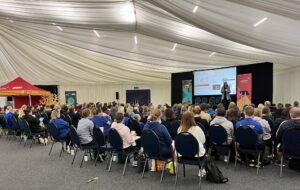 On Tuesday 16 May, Active Kent & Medway welcomed over 100 Primary Schools from across the county to its annual Primary PE Conference at the Kent Event Centre, Detling. Delegates included Primary PE Leads, Head teachers and Governors, all with the agenda to get more children across Kent and Medway active whilst ensuring their PE, school sport and physical activity experiences are positive ones.
Delegates had a chance to hear from two keynote speakers: Steve Caldecott from Association for Physical Education and Ali Oliver MBE from Youth Sport Trust. They also heard from Sarah Philpott, our Inspirational Speaker. In 2022 Sarah became the first English female to conquer the original British Triple Crown of open water swimming. Sarah is passionate about the environment and spends her spare time educating children in schools about the part we can play to protect our blue spaces.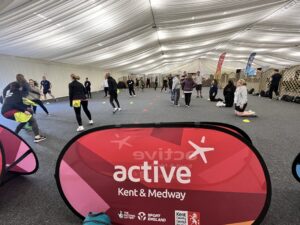 Throughout the day, delegates attended a number of workshops, gaining valuable insight into topics including Active 60, Ofsted Deep Dive, Mental Health and Wellbeing, Engaging the Least Active, and Delivering Positive Physical Activity Experiences for All.
Alongside keynotes and workshops, delegates also had the opportunity to try range of activities designed specifically for primary schools. The ever popular marketplace featured 20 stands, giving them a chance to explore products and services that Primary PE and Sport Premium money can be spent on.
Delegates left the conference armed with ideas and actions that they can start implementing in their schools. Feedback from the event was extremely positive:
"The conference was very good. Lots of useful information and support for Primary School teachers."

"The day was arranged in shorter bursts which I liked. You weren't sitting down for too long before you then moved onto the next part/speaker."

"Always a really friendly atmosphere with very interesting speakers."

"Great speakers, workshops and activities!"
Liz Davidson, Active Partnership Director commented:
"The annual Primary PE Conference is always such an enjoyable and informative event. It gives so many of our partners in education the chance to hear from experts, share ideas and discover what is on offer to support their work in ensuring all children have positive experiences when it comes to getting active or playing sport. Thank you to everyone who helped make this annual event another great success".