Health and Wellbeing of Adults News – September 2023
Health and Wellbeing of Adults News – September 2023
Everyday Active
Everyday Active is Active Kent & Medway's flagship campaign helping more people to be more active in their everyday life. The website, www.everydayactivekent.org.uk is central to the campaign. It promotes activities offered by partners countywide and provides support and resources for health professionals, social prescribers, One You advisers and other partners to have meaningful and productive conversations about physical activity.  
---
Free Workshop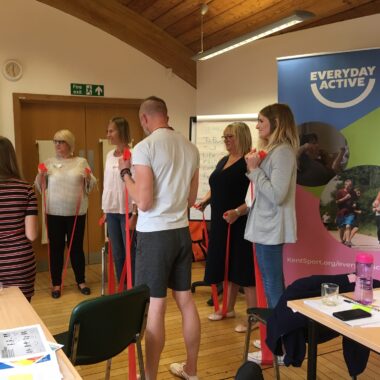 "Very useful session. Everyday Active is a great resource. I will definitely use it when speaking with people about becoming more active."
The Everyday Active Workshop is for anyone wanting to improve their knowledge and understanding of the benefits of physical activity, to feel confident about having conversations with others to help get more people, more active across Kent and Medway. Join us online for one of our free workshops taking place on the following dates:
Thursday 23 November 2023, 10:00am – 11:30am
Thursday 18 January 2024, 10:00am – 11:30am
Thursday 14 March 2024, 1:00pm – 2:30pm
Follow this link to register for an Everyday Active Workshop
---
Walk Over October Challenge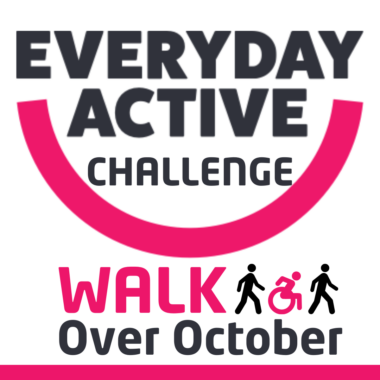 This autumn, we're inviting you, your friends, family and colleagues to join our Everyday Active Challenge and walk over October.
Boost your physical and mental health with this free, four week walking challenge. Just 10 minutes of brisk walking will get your heart pumping, improve your mood and lower the risk of serious health issues like type 2 diabetes, heart disease, dementia and some cancers. A daily brisk walk (or wheel if you use a wheelchair) will soon help you achieve the recommended 150 minutes of moderately intense physical activity every week (Chief Medical Officer).
Active 10 App and Routes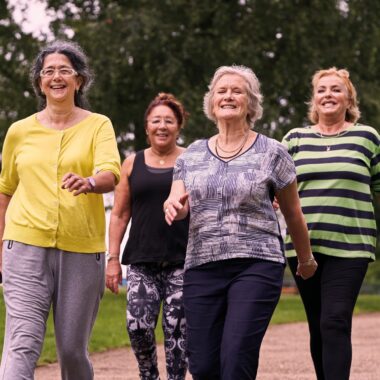 Fitting a brisk 10 minute walk into your day is easier than you think. Active 10 is part of the One You Kent programme, and encourages people to take brisk 10-minute walks every day. Brisk walking is a great way to start building up to a more active lifestyle, and with Active 10 you can track your progress with a free app.
In support of One You Kent and Active 10, we've developed 10 walking routes that can be enjoyed from the centre of Kent and Medway's largest towns. Each route consists of at least one 'Active 10', and – because each one starts from a town centre – is designed to fit around your daily life: work, shopping or meeting up with friends.
One You Walk and Talk
'Healthy changes start with little changes' – that's the message from the Better Health campaign, which is being supported by One You Kent services to help people to lose weight and get active. We love this film from One You Kent which captures the benefits of their walk and talk sessions for local residents.
Dancing for Health
Through our tackling inequalities work, we supported Moving Memory Dance Company to deliver community dance sessions within library settings. We caught up with the group at Gravesend library and to hear how the sessions are supporting Valerie and Kevin to relieve stress, make new friends, get fit and active.
Know Your Risk of Type 2 Diabetes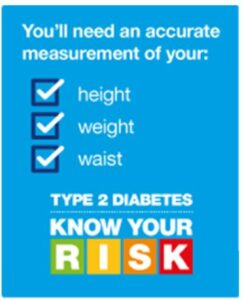 Around 13.6 million people in the UK are at risk of developing type 2 diabetes.
Being physically active lowers your chance of developing type 2 diabetes, and for those who have received a diagnosis and are living with type 2 diabetes being active can help manage the condition. Activity helps control blood sugar levels and lowers our risk of heart disease and nerve damage.
The Diabetes UK 'Know Your Risk' tool calculates your risk of diabetes and instantly emails you practical tips and lifestyle advice.
tmactive 150 programme
tmactive 150 is a community programme, designed to encourage and help local people achieve the recommended 150 minutes of moderate activity per week. Working with partners such as Active Kent & Medway, Tonbridge & Malling Borough Council, West Kent Mind and Dementia Friendly Tonbridge, tmactive support and deliver projects that help address health inequalities and offer people the opportunities to access physical activities in the Tonbridge and Malling area. The following film about the community programme was produced by tmactive.
Engaging Disabled People and People with specific conditions
Our Spotlight on: Including Disabled People highlights the benefits of physical activity for disabled people, and showcases some of the resources available to encourage organisations to offer more inclusive sessions.
Follow this link to our Spotlight On: Including Disabled People
---
See Sport Differently
See Sport Differently was created in partnership with the RNIB and British Blind Sport to tackle the biggest barriers that stop blind and partially sighted people enjoying sport and activity. Featuring the stories of those who have shared their journey about getting involved in activities, the hub also suggests activities that are inclusive and accessible for people with sight loss.
Follow this link to visit See Sport Differently
---
Exercise and Spinal Injury Guidelines
Guidelines have been developed for people with Spinal Cord Injuries, to raise awareness of the benefits of exercise for health improvements. The guidance, which includes infographics and videos, aims to reduce chronic disease risk in those with SCI through regular physical activity and to encourage people to maintain their ability to engage in daily life activities.
Follow this link to access videos and guidance
---
Other Partner Resources
Discover a range of partner resources that provide the evidence, advice and support for disabled people and people with specific conditions to become more active.
Follow this link to access the partner resources
Upcoming Campaigns
National Fitness Day
National Fitness Day is taking place on Wednesday 20 September. It is a chance to highlight the role physical activity plays across the UK, helping to raise awareness of its importance in assisting us to lead healthier lifestyles.  Everyone can take part, whether you are a fitness provider, an equipment supplier, a school or a member of the public.
Follow this link to get involved in National Fitness Day
---
Silver Sunday
Sunday 1 October 2023 is Silver Sunday. A national day where people of all generations can come together by hosting fun and free activities for older people. It is a day where older people can meet new people, visit new places, try new activities and connect with their local communities and the generations around them.
Other News & Announcements
Contact Us
We'd love to hear from you
If there's anything in this newsletter you'd like to discuss, then just get in touch and one of our team members will get back to you as soon as possible. Please email: activekent@kent.gov.uk
If you received this newsletter via a colleague and you'd like to receive future newsletters into your own inbox, just follow the link below: