District
Canterbury
Audience
Children & Young People
Activity
Volunteering
What is the Activity Volunteer Award?
The Activity Volunteer Award developed by Sports Leaders UK provides an accredited learning pathway into volunteering for young people aged 13+ through building transferrable core skills. The Skills are Self-Belief (Confidence), Communication, Problem Solving, Teamwork and Self-Management.
As the learners progress through the programme, they complete a series of tasks, recording their progress in their own personal Volunteer Profile, creating a record that demonstrates their growing skills.
The overall aim of the programme is to provide young people with the confidence in their own abilities to put the five skills into practice as effective volunteers in a variety of situations. In turn, this provides them with the platform to embark on their volunteering journey into further study, such as leadership or coaching qualifications.
As the School Games Programme in Kent evolves to engage those most affected by inequalities, Active Kent and Medway felt this award could support schools with the wider development of young people who may not engage with existing sports leadership opportunities.
---
How Spires Academy got involved?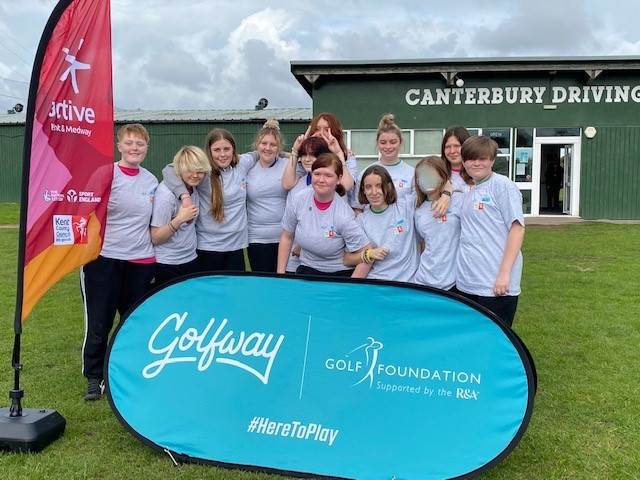 Situated on the outskirts of Canterbury, Spires Academy is a secondary school for pupils aged 11 – 18 and has a high percentage of pupils eligible for free school meals.
The students we worked with were not attending PE lessons because they found the environment challenging which led to negative perceptions of sport and physical activity. Their teacher, Mrs Skelcher was keen to find alternative ways to engage the students and focussed on how they could support others to be active.
A number of the group experience poor mental health with low levels of confidence and self-esteem so engaging in volunteering was a big step for them to take.
In March 2021, they attended their first event as Sports Leaders supporting the delivery of the School Games Boccia event. Following their attendance, it was clear these students had great potential and Active Kent and Medway encouraged them to consider the Activity Volunteer Award.
---
Impact
Since starting the award Mrs Skelcher has enjoyed seeing the students progress and grow as individuals. At the start, students were nervous about volunteering now their confidence is growing and they're enjoying supporting younger children at events.
The students said the award has:
Increased their confidence
Improved their communication skills
Made them feel proud of themselves
Helped them learn how to overcome challenges
Developed their leadership skills
Provided them with new opportunities
"It's made us more confident in sports leadership. When we went to our first event, we were really nervous. The last event we went to we knew what we were doing and were more confident working with the children."
---
Volunteer Voices
Through graffiti walls, workbooks, and conversations we asked the students:
What did you enjoy most about volunteering?
Making the children happy
Seeing the groups we worked with achieve
Having fun
Helping people
Making friends
My confidence growing
"It gives you pride, giving them praise even if they didn't understand. You give them the praise and it encourages them to do it again."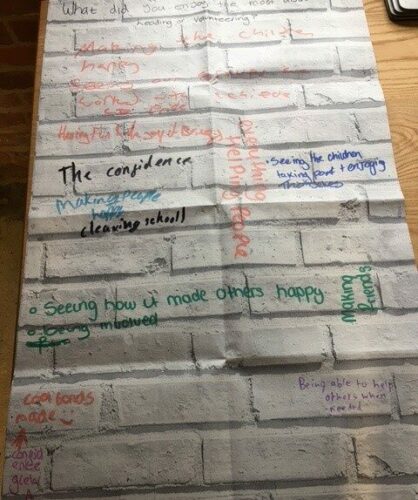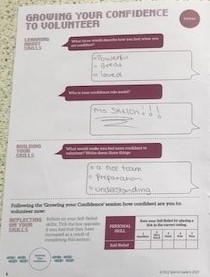 What does confidence feel like?
"Happy - Energised - Powerful - Motivated"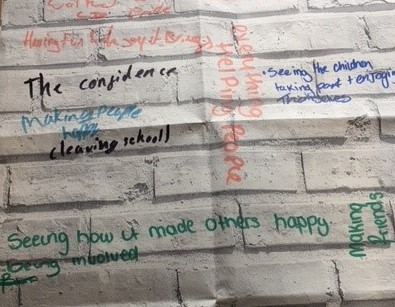 What would make you more confident to volunteer?
"Practice and preparation - Celebrate achievements - Working with people I know - Doing an activity I like"
When asked how they will use the skills they developed through the award the students' highlighted exams, job interviews, in school and at the clubs they attend.
"I'll use communication for a job interview, I will now speak more clearly and talk about the skills and experiences I've had."
---
Things to consider when delivering the Award
Flexible delivery – what is best for your group?
The award offers two options for delivery:
Full videos for each module that young people can watch and then work through the activities directed by tutors in the video. The member of school staff, youth worker or community organisation do not need to plan the delivery but the videos were made in early 2021 so activities are reflective of the remote circumstances at the time.
Tutor-led with teachers, coaches or youth workers delivering the modules using the powerpoint slides created for each module. There are multiple activity ideas for each module that you can pick and choose depending on the needs of your group.
The following recommendations are based on the face-to-face delivery with Spires during October 2022.
Build in planning time
It took approximately an hour per module to review the slides and decide which activities were most suitable for the group based on their needs, along with the time and space we had available. You may also wish to create additional tutor notes to support those on the powerpoint slides.
Be prepared to adjust the delivery length
The initial plan with Spires was to deliver the award in three sessions during a double period (approximately 80 mins) when the students had their PE lesson. Following the second session, we realised that to get the most from each module it should be extended to four sessions.
Can you include a volunteering opportunity?
Between the third and fourth session the students volunteered at a School Games event. This allowed them to consider their roles in the Teamwork module before they went and reflect on their experiences in the fourth session which complemented the final module, Self-Management.
If you can factor in module four before an event (either in your school or group or as part of an external event) it can help the young people to consider the real-life roles they might be asked to play.
Consider the examples and the language
Some of the sporting examples/activities didn't work with this group so it was important to adapt them, especially for those with negative experiences of PE and School Sport. However, the Formula One pitstop example was perfect for demonstrating effective teamwork and really engaged the group. We watched it back in slow motion multiple times.
The term 'problem solving' was overwhelming for some. Certain members of the group felt that problems were the really big things which increased their anxiety. When we used the word challenges they felt more able to come up with solutions.
---
What has happened since?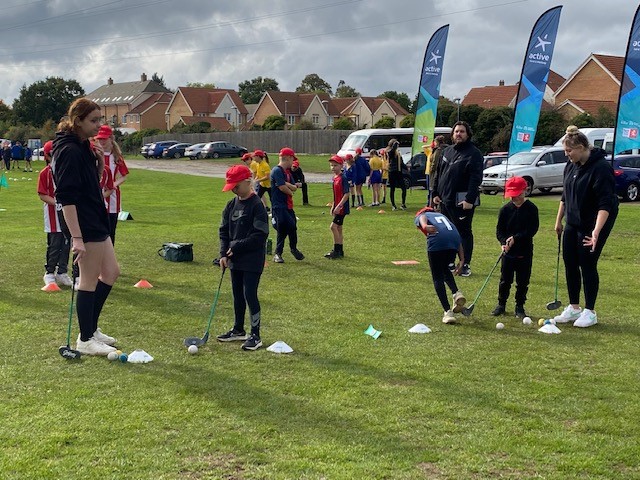 After volunteering at the School Games Golf festival at Canterbury Golf Club, Spires have been provided with golf equipment so the students can utilise their skills and deliver activities within their own school.
Active Kent and Medway has also linked Spires with a local primary school where the students who completed the award will be delivering regular activities to younger pupils during their PE lessons.
The school are exploring other sources of training that the students can access to further develop the skills gained through the Activity Volunteer Award.
---
Next Steps
If you would like to deliver the Activity Volunteer Award in your school, club or community group, please get in touch with Louisa Arnold at Active Kent and Medway via email: L.Arnold@kent.ac.uk