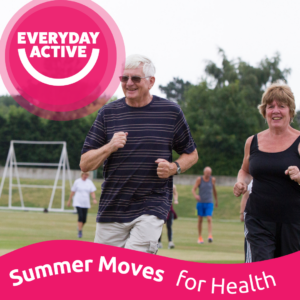 #SummerMoves is here to inspire people across Kent and Medway to move more this Summer to support and improve their physical health and mental wellbeing.
Created and developed by Active Kent & Medway as part of their flagship Everyday Active campaign, #SummerMoves will highlight the importance of moving more and will signpost to local services and local opportunities to be more active.
Sport England's latest Active Lives Adult Survey (covering the period November 2021 to November 2022) shows that 63.5% of adults in Kent and Medway achieved the recommended 150+ minutes of physical activity a week. However, 36.6% of adults are not active enough and inequalities remain. Men continue to be more active than women, less affluent adults and people with a disability are less active and those from Black, Asian and Other Ethnicities are being left behind.  
Liz Davidson, Partnership Director at Active Kent & Medway said, "Summer is the perfect time to try something new, so we want to encourage local residents to move more this summer. Studies have shown that moving more is not only good for our physical health, but it supports our mental wellbeing too. Whether we move more at home, outside, in a leisure centre or a community setting, there are so many free or affordable opportunities across the county. You can explore these opportunities on our Everyday Active website and discover lots of ways to move more this summer."
Campaign aims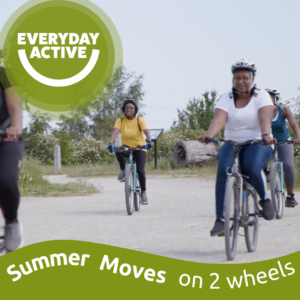 #SummerMoves aims to overcome some of the barriers that exist to becoming more active. The campaign will:
Show that becoming more active and moving more can be fun, not cost the earth and a little is 'good enough'.
Highlight free or affordable opportunities and activities, like being active in nature or in your local park. If the weather isn't kind, indoor fitness opportunities are available, such as the popular online Couch to Fitness and Family Fit programmes.
Provide inclusive opportunities most relevant to people most affected by cost-of-living challenges, like parkrun, parkwalk, Active 10 and free family bike rides.
Follow this link to Summer Moves – Hints, Tips and Activities
Support the Campaign
We invite you to connect and support the campaign using #SummerMoves on Twitter: @_EverydayActive , on Instagram: @_EverydayActive, on Facebook: everydayactivekent  
If you're a local organisation or activity provider in Kent or Medway, we'd love to partner with you and help promote your opportunities through #SummerMoves.
Our campaign toolkit has a wide range of images and suggested posts to help you support the campaign through your own social media channels too.
Follow this link to access the Summer Moves campaign toolkit
For more information about the campaign, please email activekent@kent.gov.uk and one of the team will be in touch.