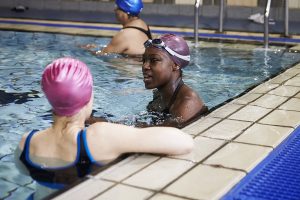 Publicly-owned leisure centres with swimming pools have been handed a financial boost following the announcement of a major new fund ahead of this week's Spring Budget.
On Wednesday 15 March, the Chancellor of the Exchequer will outline that £63 million of new money will be made available in a one-year-fund.
The fund, which will be managed by Sport England, will allow local authorities to apply for funding for leisure centres with pools that face immediate cost pressures including operational and maintenance costs, and energy bills.
"It is vital this money goes where it can make the greatest difference. This is a significant and welcome amount of support from the Government that will offer a lifeline to many public leisure centres across England as well as help sustain them into the future.  Swimming pools play a vital role in our communities and are enormously important in helping people to be physically active in their daily lives". Tim Hollingsworth, Sport England chief executive
A key aim of the fund will be to help these facilities to become more energy efficient. In total, £40 million of the fund will be made available for investment in decarbonisation and long-term energy efficiency, while £23 million will help with costs to make these essential local hubs more energy efficient.
Council-run pools, pools run on behalf of councils by private companies and by charities are all eligible for support. More information on how local authorities can apply for funding and detailed eligibility criteria will be made available in due course via Sport England.