Active Kent & Medway are proud to support the Release the pressure campaign delivered by Kent County Council and A Better Medway. We invite local clubs and other organisations across Kent & Medway to get behind this important and timely campaign.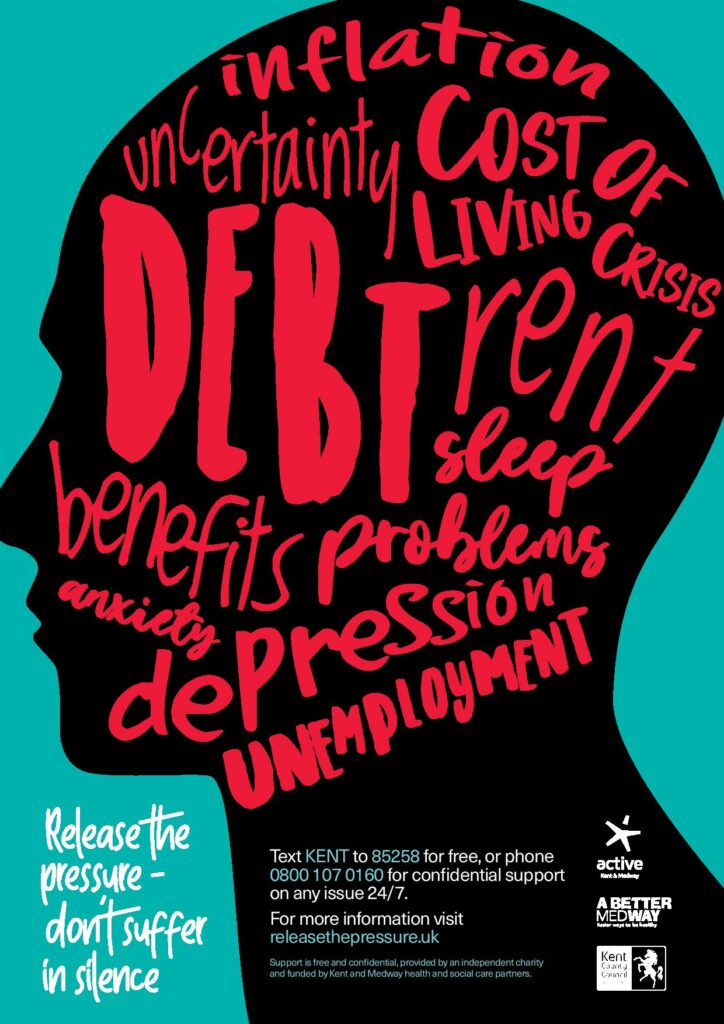 Liz Davidson, Active Kent & Medway Partnership Director commented:
"We are acutely aware of the financial pressures that many local clubs and organisations are currently under and it's clear that the cost of living crisis is impacting all of our lives. By getting behind the Release the pressure campaign and inviting our local partners, clubs and other organisations working in the sport and physical activity sector to do the same, we hope to go some way in helping those who need it most.
Evidence shows there's a strong link between being physically active and improved mental wellbeing but going for a walk or playing a game of football may be the last thing on someone's mind if they're facing financial pressures, anxiety or other mental health concerns. Knowing where to turn and who to talk to can be that first step in releasing the pressure".
Release the pressure is a free service for anyone who just wants to talk. You can text the word KENT to 85258 or phone 0800 107 0160 for free confidential support at any time.
To help spread the word in support of this important campaign, Active Kent & Medway have produced a campaign toolkit with editable posters, social media graphics and suggested tweets for local clubs, national governing bodies of sport and other organisations to use in their own promotion of the campaign.
Access Release the pressure Campaign Toolkit
Alongside the campaign toolkit, Active Kent & Medway have teamed up with Mid-Kent MIND to offer a free, one-hour training session – Everyday Mental Health – designed to look at mental health in the here and now.  For those of you who haven't had a chance to access mental health training before or would like condensed refresher on a course you may have accessed in the past, then we highly recommend this training opportunity delivered by Mid-Kent MIND. Everyday Mental Health Training is available online.
Book Everyday Mental Health Training
If you would like to discuss the Release the pressure campaign or have any questions regarding the downloadable resources or free training sessions, please email activekent@kent.gov.uk.