Active Thames fund winners announced
The recipients of the Active Thames fund include clubs from Richmond in the west, through Wapping and Tower Hamlets in the centre of the capital and out to Gravesend in Kent and Shoeburyness in Essex.
Active Thames aims to encourage groups that are less likely to engage in physical activity on the river, including individuals from ethnically diverse communities, lower socioeconomic groups, and those with disabilities.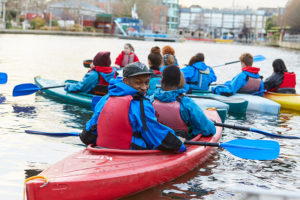 In a survey last year, people involved in watersports across the region voiced their desire to see improvements in diversity and inclusion, and there was a high demand for coach and volunteer development.
The Active Thames partners working to better serve the watersports community include Active Essex, Kent Sport, London Sport, British Canoeing, British Rowing, RYA, Canal & River Trust, Thames Path National Trail and the Port of London Authority (PLA).
Jenny Cooper, PLA sports manager, said: "Active Thames is supporting access, diversity and inclusion in sports and every recipient is ambitious about making watersports open to all. The grants will see new communities on the water in London, Kent and Essex and will help develop the next generation of coaches and volunteers."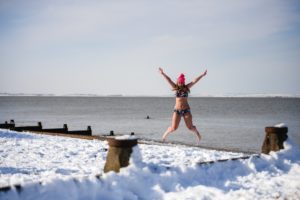 Liz Davidson, Active Partnership Director commented:  "Kent Sport are delighted to be playing a part in this amazing project which will work with clubs and organisations to enable people from all walks of life to be active in the outdoors and to be able to access the physical and mental health benefits this offers.
A wide range of projects and clubs are receiving funding through this initiative in order to provide new activities: from paddle sports, rowing, sailing and open water swimming. Kent is particularly excited to be joining forces with partners across the Thames area, including the Port of London Authority, the Governing bodies of sport, Active Essex and London Sport, to bring the great outdoors to more people."   
The grant recipients in Kent include:
The Bluetits Chill Swimmers a social enterprise committed to empowering a community of cold water swimmers. One group benefiting from the funding is regularly active in Whitstable. 80% of the group are female and over half joined in order to experience the health benefits of cold water therapy and sea swimming. £940 will provide training for the founding members so that they can tackle their waiting list, and support more people to enjoy cold water swimming safely. Active Life Ltd are providing this training and helping support the club's development.
Gravesend Rowing Club need an engine for their safety boat. A grant of £3300 will allow the club to deliver rowing courses over the winter and provide adequate safety cover for activity sessions for local schools and community groups.
Gravesend Sailing Club want to make sailing more accessible to the local community and have organised regular dinghy taster sessions. £2000 will support the training of Dinghy instructors, helping to get more people out on the Thames in Kent.
Herne Bay Sailing Club are an RYA Sailability and RYA training centre with proven success in working with people who are visually impaired and with people who are deaf. They intend to use £5000 to purchase equipment to support their work and keep costs as low as possible.
The Thames Barbarians Pilot Gig Club is one of the newest clubs on the Thames. £2500 will support club development with cox training, masterclasses, coach development, safety and seamanship. It will also support taster weekends for the local community and introduce Cornish Pilot Gig rowing to the Kent community.
For a full list of the 24 grant recipients please follow this link.