Space 2 Be Me – Tackling Inequalities Case Study
Introduction
Space 2 Be Me was set up in 2011 by a group of parents to support families in Maidstone with disabled children who wanted to access local advice and support. They work across West Kent (mainly Maidstone, Tonbridge & Malling and Tunbridge Wells) with disabled children and young people with additional needs, aged from birth to 25, and their families.
Since the Covid-19 lockdown started, Space 2 Be Me stopped its face 2 face support groups, clubs and holiday activities, and have been working hard to adapt and stay in touch with their families.
Dance Stars is an established weekly club for children with mixed additional needs led by three staff members at Space 2 Be Me.  It presents an opportunity for children and young people to express themselves in a safe and supportive environment, where their individuality, needs and creativity are embraced Dance Stars allows the children and young people to be themselves, meet and make new friends, build their self-esteem and learn new skills.
Project
Due to the Covid-19 pandemic and subsequent lockdowns, Space to be Me had to adapt their delivery.  They started with a closed Facebook group for children and/or parents to access dance resources online, and then started to add recordings of their own staff doing dance routines.  Since January they have been streaming live dance classes to children, young people and their families.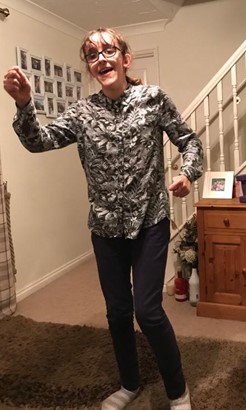 Impact
The Tackling Inequalities Funding during the pandemic enabled them to:
Continue to nurture the relationships that have already been established with many children, young people and their families but also welcome new members.
Continue to enable the children to exercise, express themselves, and connect with their peers, during such a confusing and difficult time.
Establish a closed WhatsApp group for the parents to chat with peers as though they were meeting in the Space 2 Be Me office.
As time has gone on the project found that the children and young people began to embrace the online dance sessions.
Challenges & Learnings
Switching from face to face to virtual engagement was a challenge but they rose to it and continue to review and adapt.
Initially they shared other dance resources online and then started pre-recorded sessions uploaded to a closed Facebook Group. Classes are now streamed live every Monday which have been well received.
Here are a few comments from parents:
So glad I joined your Dance Class…. a bonus meeting all the amazing mums here too.

Thank you for keeping in touch.

Lovely to see you all. Thank you.

Miss you guys, stay safe and thanks for continuing with the classes.

Child C can't wait for dance to start again.

Child J is looking forward to coming back to dance.