Inclusive Sport – Tackling Inequalities Case Study
Inclusive Sport are based in Whitstable but work across Kent and the South East delivering fully inclusive physical activity sessions to children and adults with additional needs. As a sport and exercise provider, inclusion is at the heart of their ethos. Inclusive Sport work with organisations, charities and care providers, delivering inclusive sports clubs, yoga and relaxation classes and fitness and exercise sessions.
Project
During the pandemic, the Tackling Inequalities Funding enabled Inclusive Sport to deliver weekly online physical activity sessions for both children and adults with a disability in Thanet.
Funding was used for:
Coaching Fees
Administration/Monitoring fees
Marketing/advertising fees
Purchasing prizes to incentivise e.g. sports vouchers, exercise equipment
The project engaged the following partners:
Thanet District Council – to promote and endorse sessions
Kent County Council – to promote and endorse sessions
Local Charities & Care providers – To engage their service users
Local Sport clubs – to promote their clubs to the participants and to donate prizes
Impact
The funding enabled Inclusive Sport to continue provision during lockdown without the need to charge participants. This is vital for maintaining relationships with service users as it takes time to build these relationships and connections. It also increased the organisations exposure across Thanet which will in turn help with future outreach work.
The sessions provided a social platform for participants to reduce social isolation as well as engaging them in regular physical activity. For many participants they experienced new sports and activities that they may wish to pursue in the future.
Challenges & Learnings
Poor audio quality during online sessions. To overcome this, the project invested in wireless microphones.
To keep the sessions engaging, games, quizzes, jokes, and puzzles were introduced throughout each session.
The project worked with a local health centre to hire a studio at low cost to avoid delivering the sessions from deliverers homes.
Inclusive Sport are currently developing a YouTube channel to provide free digital content where all participants will be signposted to continue activity.
We have been incredibly grateful to receive this funding. It has made a significant impact on the people that engage with our sessions especially those in financial hardship or at risk of social isolation.
The project has revealed that many adults and children with disabilities (particularly hidden disabilities ie. autism) would love to participate in more sport within their community and be part of a club but do not feel confident in doing so due to the lack of understanding of some coaches within their community. Inclusive Sport have highlighted that they believe local sports coaches would benefit from inclusion awareness training as this would really help them cater for a variety of additional needs and would love to work with local providers to develop this idea further. Kent Sport are working with them to facilitate this opportunity, please do get in touch if this is something that you would like to be involved in.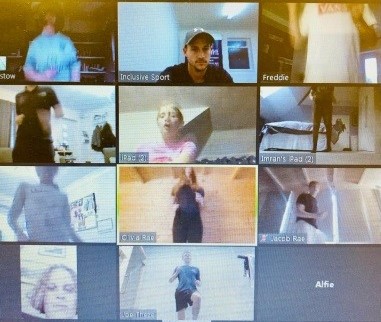 Personal Story from Parent of Child J diagnosed with ASD, Hypermobility, Language Disorder and Hemophilia.
Prior to engaging in the online activity sessions:
Child J struggles physically, mentally, and socially to take part in normal activities.
Currently does simple workouts and stretching along with regular walks to help his mobility. He also attends physio once a month at Hospital.
He suffers with anxiety and stress, but regular exercise helps his mental wellbeing.
He can become very frustrated and upset quickly when he can't do something.
He loves sport and always wants to be involved. Sadly, due to his needs this restricts his ability to participate.
Impact of attending the online activity sessions with Inclusive Sport:
Child J has gained new confidence and very much looks forward to the weekly sessions.
Better behaviour whilst listening and following instructions during the activity.
A lot calmer and happier to take part in these sessions. He looks forward to seeing the coach and talks about it all week.
Developed socially and is now able to speak to the coach and ask questions.
Follows the coach's instructions and looks forward to chatting to the other children.
Wants to continue with the physical workouts on a more regular basis.
Was able to do more without complaining of fatigue or boredom after the sessions.
Moving forward
As parents we have found these online sessions to be very positive and beneficial to Child J. He has really enjoyed taking part and getting involved. We have found having a child with Special Educational Needs (SEN), they don't feel they can always be involved, so having these sessions that are tailored for SEN gives them some normality and independence. These sessions will be beneficial to more children with SEN.