Tonbridge & Malling
£500
Gardening
Families with young children

Organisation: Based in East Malling, Communigrow is a registered charity that aims to reconnect people to nature, particularly grown food and the environment it comes from. The group provides field-based sessions on growing and conservation for schools and community groups.
Project Overview: To engage their local community, Communigrow offered taster sessions for families and children aged 5-11 years to come together and learn about growing food, healthy eating and being active together. The sessions included digging, weeding, planting, harvesting and building habitats to encourage wildlife into gardens.
Through connections with the Community Larder, social housing providers and St James The Great Academy Primary School, local families with limited access to green space and a lack of confidence, opportunity and equipment, were identified and targeted. Active Kent & Medway joined the group for one of the taster mornings.
Impact: 
Increased organisation profile
Community connectedness
Family engagement
Increased confidence to garden
"Participants want to come back! They are more motivated to participate in gardening in their own homes too." Deliverer
---
Julie and George
Julie and her son George joined the sessions as George loves gardening, which suits his additional needs. The sessions calm George down and help him concentrate. Julie would love to see more opportunities like this to support George's love of gardening, especially in school.
John and Sasha
John and his daughter Sasha live locally and were looking for something where they could be outdoors and give Sasha a purpose to be active. Sasha has enjoyed learning about where food comes from, trying new things and is looking forward to doing some gardening at home.
*Names have been changed to protect identity.
---
Key Learnings: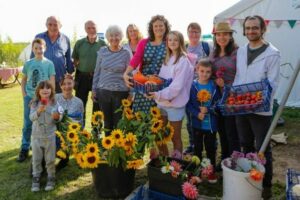 1. Make it fun. Enjoyment is key to retaining people. Make sure your sessions are fun and engaging. Ask participants what they enjoy and build on it.
2. Charge a nominal fee. Charge a small fee for sessions to cover costs and support the long-term continuation of the project. It will likely mean participants are invested in the project and reduce no shows.
3. Use multiple channels to communicate. Social media is a great tool to get your project out there but not everyone has access to it. Think about your target audience and find out the best way to get information to them.
"Can we come every Saturday?" Participant
Next Steps: Communigrow will continue to run the sessions charging a nominal fee to cover project costs and will give participants priority at future family workshops to encourage them to continue food growing and gardening at home. Monitoring will be gathered from the sessions to improve and develop sessions and help with future funding bids.
If you're interested in finding out more and attending a future event, please visit Communigrow or email info@communigrow.org.uk.