Medway
£305
Running
Women and Girls
Organisation: Formed in 2014, Rebel Runners Medway is a friendly running club based at Medway Park. Affiliated to UK Athletics, the club offers regular team runs, led by qualified run leaders, suitable for all abilities. Members and non-members can join in with their coach-led Couch to 5K programme as well as regular track sessions.
Project Overview: Rebel Runners Medway wanted to offer their eight-week Couch to 5K programme to local residents in the Medway area, particularly focusing on women and girls. Sessions took place every Saturday at 10am at Great Lines Heritage Park in Gillingham with optional homework sessions at Medway Park on Wednesdays.
Sessions were coach-led and supported by previous participants of the Couch to 5K programme. At the end of the programme a graduation event was held and participants were encouraged to register for their local parkrun. Funding was used to purchase equipment and to pay for venue hire.
Impact:
23 Couch to 5K graduates
Improved mental health
Upskilling of volunteers
Development of new friendships
Increased club membership
"Thank you to all the Rebel Runners that have supported us over the past 8 weeks, what an achievement. Definitely helped me start to enjoy running again."

Couch to 5K Graduate
Key Learnings: 
1. Prepare for the weather. As this programme runs for the first two months of the year the weather isn't ideal. Lots of encouragement is needed and advice around appropriate clothing. 
2. Offer Homework. To keep members motivated outside of the sessions provide participants with optional homework, this can include attending other club sessions, run with friends, running a photo treasure hunt. 
3. Celebrate successes. These can be big or little wins. At the end of the programme get everyone together to celebrate their achievements.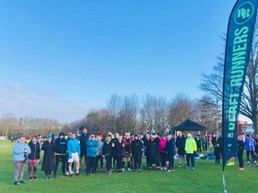 Next Steps:
All graduates are encouraged to take part in the Great Lines parkrun which many took up. The club have seen a boost in membership and will continue to run their Couch to 5K Programme.  
"The sun was shining, the wind was chilly but Bridie got me round Great Lines parkrun in under 30 minutes. Love it."

Couch to 5K Graduate
Rebel Runners Medway hold team runs every Monday at 7pm and Thursday at 7:30pm at Medway Park. If you'd like to give running a go and get support from a local friendly running club in Medway, then please visit Rebel Runners Medway or email membership-rebelrunners@outlook.com.