Folkestone Academy – Folkestone Saints Basketball Club
District
Folkestone and Hythe
Target Audience
Girls, Inactive, Lower Socioeconomic Groups, Culturally Diverse Communities
Activity
Basketball
Organisations

Part of Turner Schools Multi Academy Trust, Folkestone Academy aims to transform children's futures, empower families and strengthen communities. They foster an environment where children can grow in confidence and ambition, and inspired to develop their passions and interests. Traditional subjects are taught alongside creative arts, sports and a vibrant extra-curricular programme.
Folkestone Saints Basketball Club is one of Kent's oldest basketball teams. They provide playing and coaching opportunities from under 12's through to veterans.
Project Overview
The Opening School Facilities (OSF) Fund, which is part of Sport England's covid recovery plan, gave Folkestone Academy the opportunity to provide a range of different sport sessions to young people to get them active again after Covid-19. The sessions are available for everyone but targets those that are least active and from lower socioeconomic groups. Sessions offered include:
Girls Basketball
Mixed Basketball
Netball
Skateboarding
Trampolining
Kent Sport visited the girls basketball session on a Thursday evening. In partnership with Folkestone Saints Basketball Club weekly sessions are available for both external students and students of Folkestone Academy. The fund has enabled the club to use the school's facilities on Wednesdays and Thursdays until 9pm. The sessions cover a range of drills including shooting, defending, passing and dribbling and finish with a game where they can put their newly learnt skills into practice.
It defines who I am, when I was a kid I loved playing sport. It's better than being on my phone like other kids.

Student, Folkestone Academy
Impact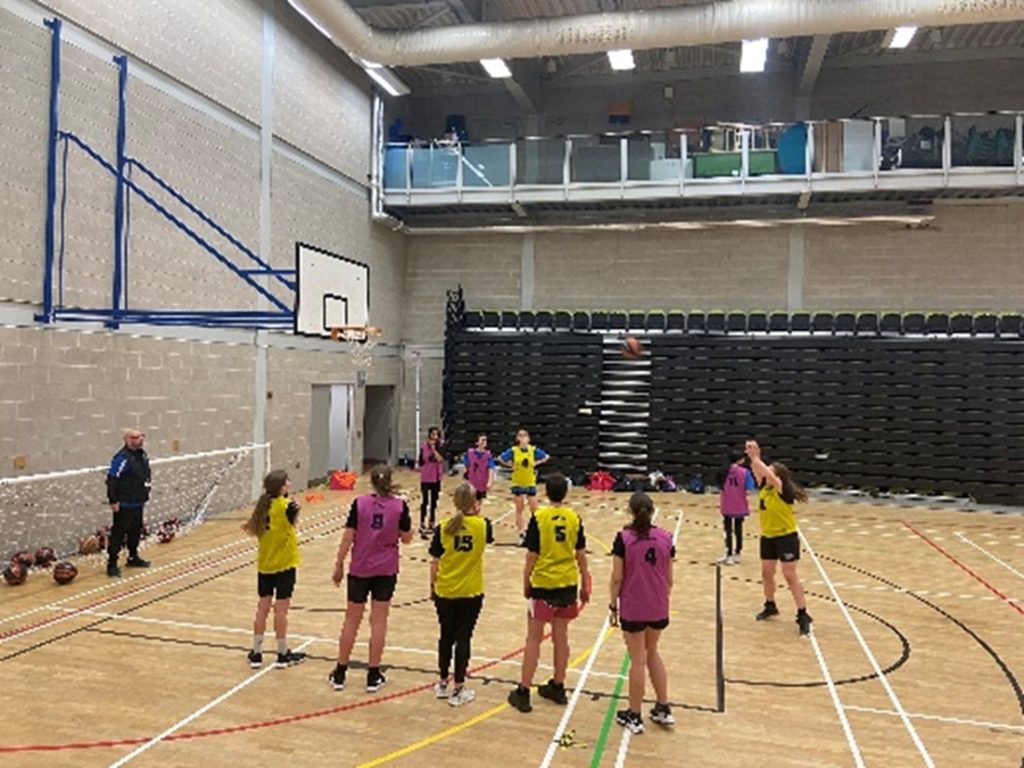 Many of the girls were not physically active during lockdown. Whilst the guidelines state young people should be doing 60 minutes or more of activity everyday, most of them were only doing 30 minutes of activity a day. Now, they are doing 2 hours of activity when attending the sessions offered by the fund.
The club started off with 3 girls, now 24 girls are engaged in the sessions. One of the coaches noted that the project "has allowed young people from lower socioeconomic backgrounds access to free sport and a social network". It is vital for young people to reconnect socially after lockdown and the OSF fund allows them to do this whilst being active. The girls highlighted that being physically active to them is important for many reasons including being able to make new friends and staying fit and healthy.
The basketball sessions have attracted girls that have never played basketball before. The sessions not only impact the students but the local community club too. Many students have now gone on to play for the local club allowing a girls section to be created. One 13 year old student is now playing for the ladies first team.
I like making new friends from other schools. I like the coaches, they have made sure I know how to play properly.

Student, Folkestone Academy
Challenges
Although the girls basketball sessions have been successful, the coaches have found it difficult to find competition for the girls to put their training into game situations. This is because there are not many basketball teams in the area. However, to overcome this the girls can attend mixed basketball sessions for a wider range of competition and for extra training to improve their skills.
These sessions have made me realise that I really like basketball.

Student, Folkestone Academy
Next Steps
The club is going to continue as it is, providing free sessions to students of Folkestone Academy and offering external students sessions for a small fee of £2.50 to help with the sustainability of the club. The coaches are also hoping to create a girls basketball academy programme at school.