Activity
Boccia
Audience
Disabled children and young people
Location
Countywide
Introduction
The School Games is a government led programme, inspiring young people to be physically active for life through positive experiences of daily activity and competition. The Kent School Games support the wider development of children and young people by targeting those facing the greatest inequalities and by providing new and exciting opportunities through six different themes: Physical Me, Social Me, Thinking Me, Personal Me, Healthy Me and Competitive Me.
---
Social Me Boccia Events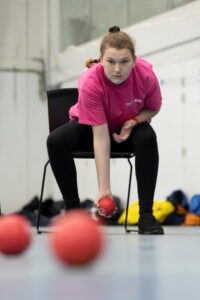 In 2022-2023 academic year, the Kent School Games delivered two Boccia events across the county. These Social ME events were exclusively targeted at those students who have SEND needs and find it difficult to connect with group tasks and work with others.
Through the use of Boccia games, the events aimed to develop participants' teamwork, cooperation and leadership skills. Supported by young leaders from The Beacon School and Mid Kent College, 10 schools attended with a total of 113 students who all had equal opportunity to participate in a fun and inclusive environment.
The events began with the school leaders giving a demonstration and explanation of Boccia. The leaders then supported their own teams to learn and develop their boccia skills.
A tournament format was then adopted giving teams the opportunity to play against each other and celebrate their successes together. Due to the events relaxed competitive approach this also gave students from different schools the opportunity to collaborate and form new teams, encouraging them to communicate with and support each other.
---
Impact
37.5% participants said they always enjoy being part of a team.
66.6% participants said they always enjoy being part of a team.
41.6% participants said they always like to listen to others.
62.2% participants said they always like to listen to others.
"It is interesting to see them take on leadership roles in their team and be more confident. It helps that groups are small and everyone is on a level playing field". Slade Primary School
---
Key Learnings
Make sure the rules are clear and easy to understand. It became apparent the importance of having clear rules and demonstrations for the students to ensure they understood the activity and were able to participate equally. Send the rules out in advance so teachers and students can familiarise themselves before the event.
Be prepared to adapt to suit participant needs. Find out the needs of your students before the event so you can adapt the schedule to suit their needs. Additional and longer breaks can give participants time to process and prepare.
Utilise young leaders at events. If possible create opportunities for young leaders to support the event, not only does this help the event run smoothly and provide additional support but it also gives young leaders valuable transferable skills.
---
Next Steps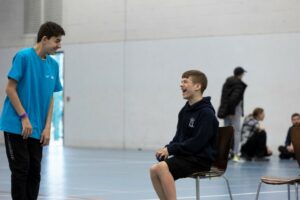 It was clear that the Boccia events had a positive impact on participants, with increased team working, communication and leadership. Kent School Games and local School Games Organisers will continue to deliver SEND exclusive events throughout the academic year, to ensure that the children and young people who face the greatest inequalities in accessing sport and physical activity opportunities can take part and benefit the most.
Contact Us
If you would like to find out more about Kent School Games and how your school can get involved, please get in touch with Charlie Sharp at Active Kent and Medway via email: charlie.sharp@kent.gov.uk.