Romney Marsh Community Hub – Tackling Inequalities Case Study
The Romney Marsh Community Hub is an independent charity dedicated to supporting and improving the health and wellbeing of people aged 50+ in their local community for over 45 years. They are committed to reducing the impact of loneliness and social isolation by providing an accessible and welcoming place for people to take part in events and classes, to meet and socialise.
Project
The aim of the project was to deliver a programme of opportunities/activities to support 45 clients who are living with long term health conditions. The programme focused on reducing frailty, loneliness and isolation, improving mobility for those who have been self-isolating and rebuilding confidence in leaving home and re-joining the community through befriending sessions. The activities included:
Doorstep visits to people who had been self-isolating for 13-14 weeks.
Seated and standing Tai Chi; seated exercise classes.
Weekly activity workbooks – focused on physical and mental wellbeing, including exercise.
The Hub initially identified clients and spent time coordinating who would be involved, what resources would be allocated and how evidence would be recorded.  The funding covered staff time, expenses, activity books and restarting exercise classes.
Impact
The Hub received many thanks from their clients, and they were grateful for the contact during such a difficult time. However, they also found that some clients were hesitant to allow someone to visit them at all, even in their outside space.
The activity workbooks were well received over the 12 weeks with lots of positive verbal feedback.   The clients looked forward to receiving them and they found that the exercises were attempted (at least) by the majority. The weekly exercise classes were fully attended once they were able to launch post lockdown, offering Pilates, Tai Chi, Tone Up & Tighten Up Aerobics. The Hub developed questionnaires for home visits to ensure everyone involved was kept Covid safe and secure.
Quote from Client A (89 years old):
I really enjoyed my visits from the team to my home. It feels good to get back to spend time with someone again. It's like a step of encouragement to get back to life. Looking forward to Seated Tai Chi in November, now it's been explained to me what will be done to keep us safe. I am starting to walk my own dog again and didn't realise how much I missed fresh air.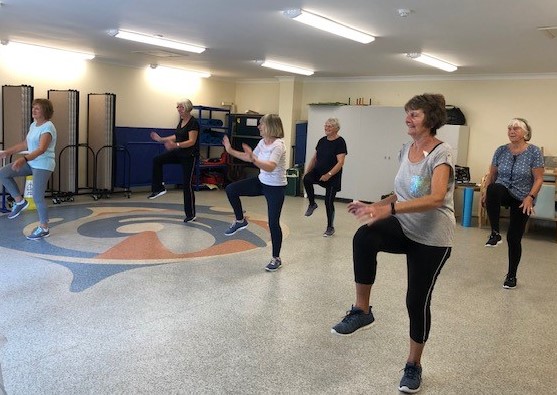 Challenges & Learnings
The project faced a few challenges in light of the pandemic:
A number of clients didn't want to participate citing their particular vulnerabilities and concerns. This was often relating to catching Covid-19. In response, the staff shifted their focus to building rapport and confidence with them ahead of planned visits.
Staff have had to be flexible and adaptable, doing more in people's homes than planned.
Staff shortages initially limited their progress in fulfilling the number of home visits. In response, the Hub adapted their approach, made clearer the purpose of the project and engaged volunteers to assist with the initial booking of appointments and COVID questionnaires that had to be completed ahead of staff visits.
The project highlighted some key learnings:
Listen to people's concerns and support them to feel more comfortable to engage in the exercises.
Older people can be encouraged to do exercises in their own homes in their own time, as well as coming to a Centre to participate in exercise classes.
People are dispersed across 100 square miles on the Romney Marsh so targeted advertising to reach these rural groups is needed to run effective classes.
Volunteers made up the weekly exercise and activity workbooks which then got distributed by volunteers to older people's doors once a week.
Quote from Jon Wilson, CEO, Romney Marsh Community Hub
It has been a challenging project in light of the pandemic and lockdowns. We have adapted to the challenges as best we could to keep people active in their own homes over this period.