Home-Start Medway – Tackling Inequalities Case Study
Home-Start Medway provides unique services for families with children across Medway. The independent charity opened in 1987 and adopts the Constitution, Standards and Methods of Practice of the national organisation, Home-Start UK.  Their vision is that every parent in Medway has the support they need to give their children the best start in life
Project
The Tackling Inequalities Fund was used to purchase bags of physical play resources for families supported by Home-Start Medway. The families who received the bags were identified as vulnerable due to isolation and their levels of need e.g. domestic abuse and/or financial hardship.   The physical play resources were age appropriate and suitable for indoor and outdoor play.
The funding also enabled Home-Start Medway to run a weekly face to face group for parents and children with a focus on supporting physical development and interaction. New larger scale resources were purchased for the group to extend the offer for physical play. A second group will start in the Autumn in another area of Medway which is deprived and isolated. Funding will be used for weekly rental of a church hall and new resources. Both groups are run by staff and volunteers funded by other grants.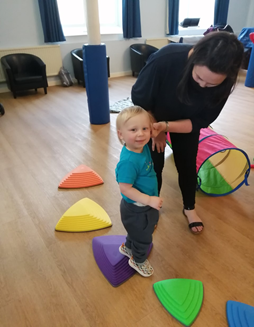 Impact
Re-started a face-to-face group as soon as covid restrictions lifted in May 2021.
Re-configured the group to make it covid secure. The group was immediately fully booked.
Worked with staff from the domestic abuse and financial fitness projects and brought new families to the group to build confidence.
Trained volunteers in new covid secure processes to support the group.
Delivered weekly picnic meetups for families from across our projects in July/August. The meetups were held in local parks and green spaces across Medway. The physical equipment bags were distributed directly to families via these meetups.
In total 21 families attended the group with 26 children. The new resources were enthusiastically received by the families.
Challenges & Learnings
The delay in the lifting of covid restrictions impacted some project plans:
The first group re-started in May 2021 but the second planned group for families will now start in September.
Numbers for our first group had to be restricted initially to 10 families which was later extended to 15 families. In September these restrictions will lift further enabling Home-Start Medway to reach more families in a second area of Medway.
Covid restrictions prevented some volunteers from returning to face to face visiting and this delayed the distribution of some of the resource bags of physical equipment. However, the picnic sessions enabled staff and volunteers to distribute the first set of resource bags directly to families in a covid safe outdoor meetup.
Initial plans for larger scale physical equipment had to be revised due to a lack of storage facilities in the community venues. However, staff were able to source high quality resources that were portable and/or stackable. They also sourced some resources that families could replicate in the home e.g. laundry basket as a target for balls/bean bags.
Home -Start Medway is the only charity in Medway that supports families with children under 5. During covid they developed new partnerships with other local charities such as Gillingham Street Angels and Medway Foodbank. As an established and trusted organisation, Home-Start Medway were able to support these other organisations to bring their support and services to the local families.
Sarah Powley, Manager at Home-Start Medway:
The support we received from Kent Sport was excellent.