Age UK Hythe & Lyminge – Tackling Inequalities Case Study
Introduction
Age UK Hythe & Lyminge is a local, independent charity in Folkestone and Hythe District, Kent. We provide friendly, flexible services for older people who want to live independently at home. We are grateful to our many donors and supporters and are proud to be part of the national Age UK "family". Age UK Hythe and Lyminge is a thriving organisation and provides services to older people to regain confidence and improve mobility. 
Project
Throughout the Covid pandemic and the subsequent lockdowns we have seen a decline in individuals' mobility and confidence and an increase in loneliness and isolation. Working with the GP surgeries in Hythe and Lyminge, we identified individuals classed as moderately frail. Once the GP had gained permission for us to contact the individuals, Age UK made contact by phone to explain the programme of support we had available and to confirm their participation. 
We worked closely with a Postural Stability Assessor who worked with staff to implement an assessment process and design an exercise programme for individuals based on findings from the initial assessment to improve mobility and build confidence. 
The Tackling Inequalities Funding supported the cost of staff time, travel and some basic activity equipment. The funding allowed us to relieve specific staff to accommodate the programme and run specific activities such as light exercises in gardens, activities in the park like chair yoga and a weekly activity workbook which focused on physical and mental wellbeing, including exercise. We are lucky to have a staff member who is trained to deliver Yoga so we were able to include this in our offer of activities. 
When restrictions allowed, we set up walking groups called 'The Strollers' where we transported individuals to a park or similar venue and walked at the individuals pace. We found that participants encouraged each other to walk that little bit further.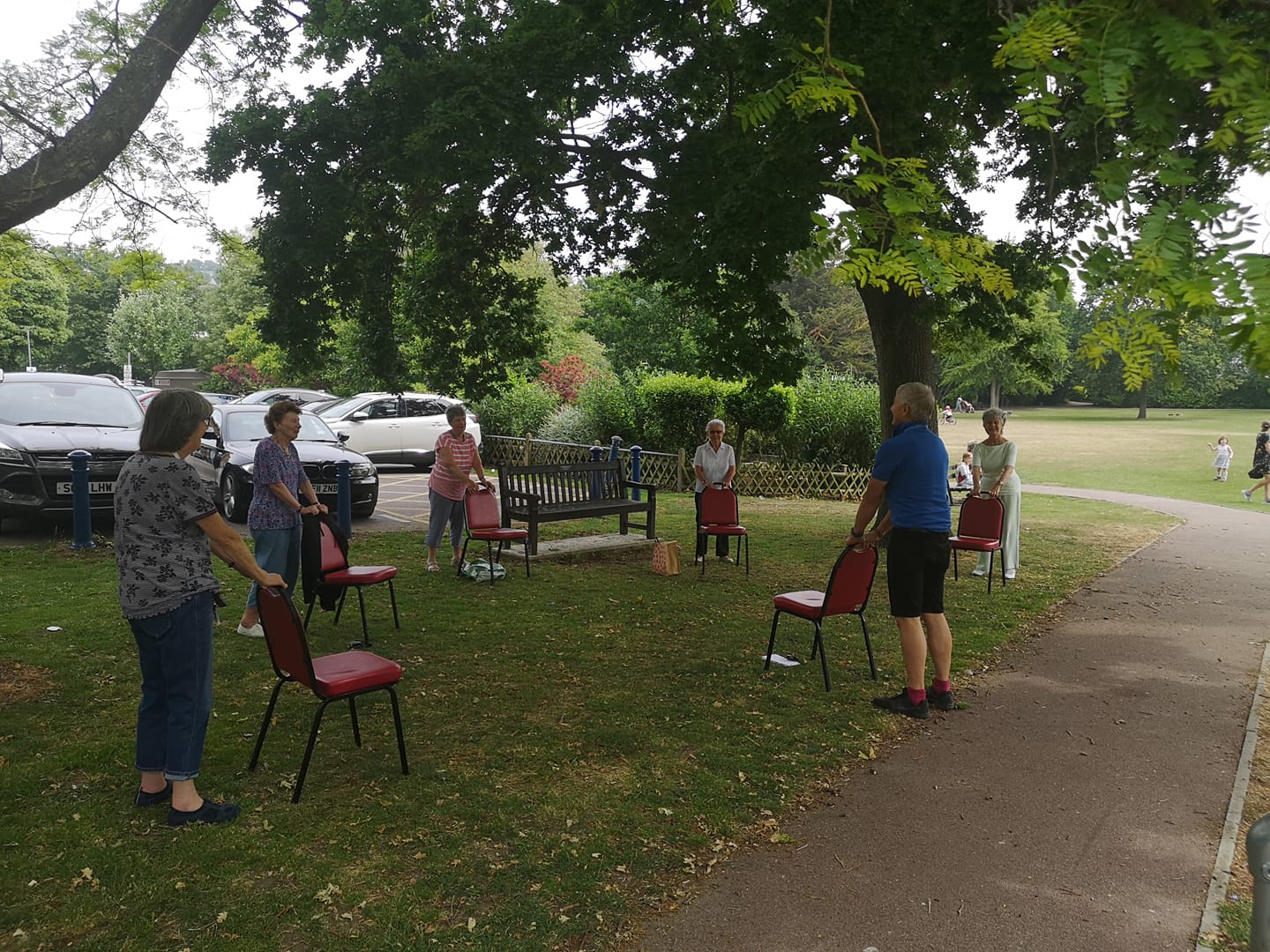 Impact
Improved mobility and movement of individuals, giving them the confidence to venture back out and join community activities, in turn reducing loneliness and isolation.

 
Improved the wellbeing of individuals as well as our staff and volunteers. 

 

Even a short burst of 10 minutes exercise, clearly showed an increase in positive mood and reduced some anxiety and stress for individuals.

 

Participants followed their exercise programme daily and attended weekly activity/exercise sessions.  

 
We continue to develop our offer around physical exercise to improve mobility and to reduce isolation and loneliness for all participants. 
Before the programme intervention, Mrs B stated:  
All I do all day is sit in my chair. I struggle to get up and I am scared of falling.   
Following the intervention, Mrs B said:
I feel I have a bit of life back. I feel safe walking into my kitchen to make a tea or going for a walk to the end of my corridor to keep my legs working. Oh, and it is so lovely to see you and talk to someone, and because I know you're coming back next week, I have to keep it up don't I? 
Learnings
At times it was difficult to engage with the older people to participate in exercise.  We found many had become complacent and had lost confidence to venture outside. 

 

Some individuals did not have gardens and we were not able to use communal spaces during lockdown. We overcame this by using equipment such as flexi bands and hand stress balls, even baked bean cans in the home!

 

As restrictions started to ease, we offered more outdoor activities such as boules and new age curling.  

 

We are continually increasing our offer of activities with walking football, 'the strollers' low impact walking group, Zumba Gold, Yoga and chair-based exercises.

 
Quote from Mr C: 
I just wanted to get out and socialise. I never thought of joining an exercise group. Yoga keeps me supple and it's at my pace. Boules is fun and it keeps me active. 
During this programme, we provided 2045 occurrences of support to 670 individual people over the age of 60.